Tag Archives:
York
---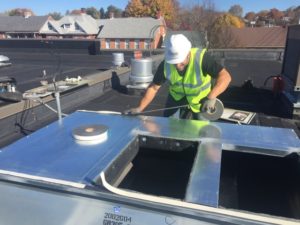 A.M. Botte performed a total upgrade of the Waynesboro, PA Post Office HVAC systems. We removed two old rooftop units and replaced them with new York high efficient units. We replaced the old boiler system with a new Burnham boiler and power flame gas burner, offering high and low fire for energy efficiency. We upgraded all the boiler pumps with VFD drives to help with efficiency. Once all the units were replaced, we upgraded the HVAC controls for the entire building with a modern, building automation system (BAS). This allowed us to connect all the equipment to one central front end and monitor the building operation for maximum efficiency.
The Waynesboro Post Office now has a fully modernized system that will realize annualized savings of thousands of dollars.
Photos of Waynesboro PA Post Office Job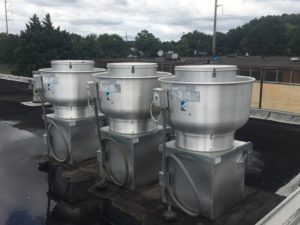 South Jersey CML in Bellmawr, NJ is the Dunkin Donuts baking and distribution facility in South Jersey. Their location in Bellmawr is crucial to operations, as it is responsible for the on-time, on-budget of bakery supplied goods to its many member franchisees throughout South Jersey. A.M. Botte was tasked with the design and installation of: HVAC Unts, Exhaust Systems and Three New Cook Lines.
Services Provides to South Jersey CML in Bellmawr, NJ
Installation of FOUR New 15 Ton York Rooftop Units
All New Custom Ductwork for the Four Units
Installation of THREE new 40' Stainless Steel Captiveaire Kitchen Hoods
Installation of 20" Stainless Steel Exhaust Ductwork
Installation of SIX, 3000 CFM Exhaust Fans
Installation of SIX Captiveaire Make Up Air Units
Put THREE New Cook Lines Into Service
Photos of South Jersey CML Project