Deptford Commercial HVAC Maintenance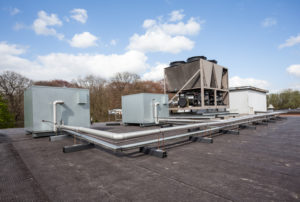 A.M. Botte is your longtime local and trusted contractor for affordable Deptford commercial HVAC maintenance! From our brand new facility near you in Sewell, we provide repairs, installation and maintenance of HVAC systems, for businesses throughout Deptford and Gloucester County. We've been in the business for over 20 years, and we still believe in earning our reputation for customer satisfaction with every call, every day.
As any Deptford business owner knows, South Jersey weather can have some rough extremes at both ends of the thermostat. Our blazing hot summers and frigidly cold winters take a toll on heating and air conditioning systems…and your HVAC system is most likely to be overworked and shut down when you need it the most. The damage from a broken down HVAC system is more than just the cost of repairs or replacement…it's also the lost revenue as customers leave, temperature sensitive equipment breaks down, perishable goods are lost, etc.
As is always said, an ounce of prevention is worth a pound of cure. To keep your employees and your customers comfortable and your costs down, it's important to keep your systems running and avoiding costly shutdowns. Let the pros at A.M. Botte keep your employees and visitors comfortable with our affordable maintenance program!
Our Deptford Commercial HVAC Maintenance Services
A.M. Botte's technicians can repair and maintain your HVAC systems regardless of your building's size, and we'll provide you with an honest assessment of the repair, without selling you services you don't need. If your system is aging, running inefficiently and frequently breaking down, we can replace it with a new one from a top name brand, and save you on future energy and repair expenses.
Best of all, our Deptford commercial hvac maintenance plans help keep your HVAC system running efficiently for many years to come, and keeping your energy costs down with its efficiency. Our maintenance service includes periodically checking your system's refrigerant levels, replacing filters when needed, lubricating moving parts and calibrating thermostats.
We'll also identify small issues that can be addressed before they become larger problems and require repairs. For an affordable price, you can stay ahead of any problems and focus on your business in the worst of South Jersey weather extremes.
Our regular maintenance service offers several extra benefits too. A properly running system will keep the indoor air quality at a cleaner level for your employees and customers. Proper maintenance also protects your system with warranty coverage, which can sometimes depend on properly caring for and lubricating the HVAC system.
Keep your systems running effectively when Mother Nature gives it her best. Keep your HVAC system strong through those long heat waves and cold spells that South Jersey is notorious for. We'll help ensure that your business stays open and your staff and customers are comfortable throughout the year. We'll also ensure that your HVAC system runs efficiently for many years to come, and is worth the investment.
HVAC Services From A Name You Trust.
A.M. Botte brings honesty, integrity and top quality work on every job, and in treating all of our customers fairly. We stay ahead of the latest technology to ensure you're receiving the best possible service. Read what some of our satisfied customers have to say here, and why both residents and businesses have trusted A.M. Botte for their HVAC services for over 20 years.
Businesses that choose A.M. Botte as their Deptford commercial HVAC maintenance service know that they can count on us to keep their facility comfortable and open for business. If you'd like to know more about our maintenance plans and their benefits, click here for a free estimate. Don't run the risk of costly heating or air conditioning shutdowns and repairs; call A.M. Botte to keep your systems running and your business going.
New Location in Sewell!
A.M. Botte has opened a new office right here in Sewell, in Washington Township! We are now even better able to serve you with your HVAC installation, repair, and maintenance needs. Wherever you are in Gloucester County, reach out to us today. We can help keep your employees, visitors and customers comfortable throughout the year!
Interested in company updates, customer reviews, employment opportunities and HVAC tips? Be sure to follow our Facebook page!