Mount Holly Commercial HVAC Maintenance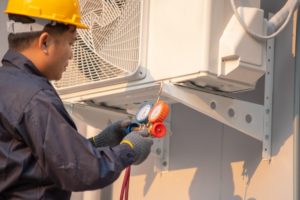 As a business owner, of course you understand the value of prevention and preparation, and the importance of your heating and air conditioning running smoothly. That's why the team at A.M. Botte provides first class and affordable Mount Holly commercial HVAC maintenance services. With our maintenance plan, we'll keep your HVAC systems in top shape and ready to handle those crazy South Jersey weather days.
A heating or air conditioning system breakdown can be very costly for your business. If you spend a day or more having your system repaired, in addition to the cost of the repair, you could be losing significant income and productivity, as customers leave your store or temperature sensitive machines remain shut down.
Our commercial maintenance plans help you avoid watching your customers go to your Mount Holly competitors. We'll maintain your heating and air conditioning systems equipment and keep your employees and customers comfortable.
First Class Mount Holly Commercial HVAC Maintenance Service
With our commercial maintenance plan, we'll visit your facility on a periodic basis. We will ensure that your thermostats are properly calibrated, lubricate the moving parts as needed, clean blowers and other components, and replace dirty filters. With each maintenance visit, we'll closely inspect your system and check for small problems and address them before they turn into larger ones and potential shutdowns.
At A.M. Botte, we've been in the HVAC business for over 20 years, and we still today work to earn our reputation for honest and fair service every day. We employ the top technicians in the region who behave professionally in your facility, and we never try to sell you services you don't need.
Keep your facility comfortable and protected from HVAC-related shutdowns. Reach out to A.M. Botte today or fill out the form below to ask us about our Mount Holly commercial HVAC maintenance plans. We'll help keep your business comfortable, no matter what South Jersey weather brings.
New Location in Sewell!
A.M. Botte has opened a new office on NJ Route 47 in Sewell, in Washington Township! We are now even better able to serve you with your HVAC installation, repair, and maintenance needs. Wherever you are in South Jersey, reach out to us today…we can help keep your home or business comfortable throughout the year!