Swedesboro Commercial HVAC Maintenance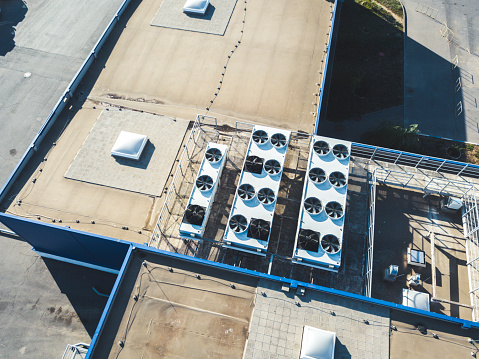 For your Swedesboro commercial HVAC maintenance needs, AM Botte is the solution! Our home office is located just a few minutes from you in Sewell, and we both repair and maintain HVAC systems and install completely new ones for businesses throughout South Jersey. AM Botte has been serving commercial businesses for over 20 years, and we still believe in earning your trust and your business with every service call.
We don't need to tell you about the extremes of South Jersey weather, of course. It's not uncommon for us to live through a bitterly cold winter and a brutally hot summer in the same year! With weather here as erratic as it is, your HVAC system needs to be able to handle it and keep employees and customers comfortable.
If your aging commercial HVAC system isn't being maintained on a regular basis, your risk of a costly shutdown becomes much greater, and a shutdown is most likely to happen at a time when your staff and customers need it the most…during a lengthy heat wave or severe cold spell. A shutdown is more than just the cost of repairs…it causes production downtime, closing of the shop, and potential breaking down of temperature-sensitive equipment.
Our technicians can maintain and repair heating and air conditioning systems from any manufacturer, regardless of your building size. If you system is aging, consider replacing it with a newer, more efficient system and save on your energy costs. We'll show you how. Is your business expanding? Call on AM Botte to install a brand new and efficient system in your new facility!
Your Swedesboro Commercial HVAC Professionals
Businesses that choose AM Botte for their Swedesboro commercial HVAC maintenance needs know that we'll keep their systems running and their buildings comfortable. Our maintenance plans include checking and calibrating thermostats, lubricating moving parts, monitoring refrigerant levels and replacing filters regularly.
We'll help identify and correct small problems before they become larger ones, and prevent costly shutdowns of your business for HVAC system repairs. And if your system does need repairs, we'll provide you with an honest estimate of the cost to fix it, without selling you services you don't need.
Keep in mind that periodic inspection of your HVAC system may be a requirement of the manufacturer's warranty…and keeping your system maintained properly means that the manufacturer can still likely cover the costs of repairing a system that is still under warranty.
Don't take the chance of a preventable HVAC shutdown or allow your investment to wear down more quickly. Call us today to speak with one of our professional technicians, or use this form to tell us about your Swedesboro commercial HVAC maintenance needs and get a no-obligation estimate. We look forward to making you our next happy customer!
0% Financing on New HVAC Systems! Could your HVAC system be aging beyond the point of reliable service without unpredictable shutdowns and repairs? At A.M. Botte, we offer 0% financing on our new HVAC system installations…take advantage of our budget-friendly, solid and dependable HVAC installations for a new system that is reliable and keeps your energy costs down. Reach out to us today to request a quote!
New Location in Sewell!
A.M. Botte has opened a new office right here in Sewell, in Washington Township! We are now even better able to serve you with your HVAC installation, repair, and maintenance needs. Wherever you are in Gloucester County, reach out to us today…we can help keep your business comfortable throughout the year!
We don't just serve businesses and commercial entities in the Swedesboro region…we serve homeowners too, with our residential HVAC services! Call on A.M. Botte for your home's HVAC needs, including trusted installation, repair and maintenance services, and let us help keep you and your family comfortable at home too.
Interested in seeing case studies and reading testimonials? Follow our Facebook page today!