Mullica Hill Commercial HVAC Maintenance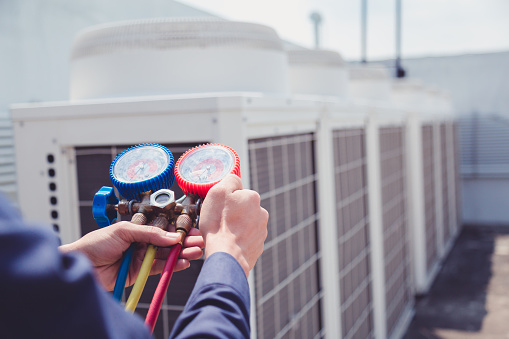 For trusted and dependable Mullica Hill commercial HVAC maintenance services, AM Botte is your destination! We're based nearby in our new facility in Sewell, and we have been helping keep South Jersey business facilities comfortable for over 20 years. We value each of our commercial clients, and we've managed to stay around this long because we work hard to earn our high customer satisfaction rating with every service call.
Why do you need an HVAC maintenance plan? As a South Jersey business owner, surely you're aware of the weather extremes in our area, and the importance of properly running and efficient HVAC systems. Very often, our techs respond to emergency service calls because of HVAC systems that have been neglected…for businesses that have had to close for the day, shut down machinery, or lost customers because of weather conditions.
Shutdowns and long overdue repairs can be costly for a business…not just in repairs or system replacements, but in lost customer revenue, temperature sensitive equipment breakdowns, and lost perishable products. HVAC shutdowns often happen when the heating or air conditioning is needed the most…during those long spells of extreme weather. You can help to avoid the cost of shutdowns with our simple and affordable maintenance program, and avoid those costly periods of lost business.
Your Mullica Hill HVAC Maintenance Professionals
AM Botte can repair or replace your HVAC system as needed, including installing an entirely new system regardless of your building size. But more importantly, our Mullica Hill commercial HVAC maintenance plan is affordable and keeps your systems running strong and efficiently during the harshest of our weather extremes. Your HVAC system takes a beating during those long heat waves and cold spells…make sure it can withstand the weather and stay effective, and efficiently keep your energy costs down.
For a reasonable fee, our techs will visit your place of business periodically, and check and maintain your HVAC system. We'll calibrate thermostats, lubricate moving parts, monitor refrigerant levels and replace filters when necessary. We'll keep your HVAC system running as efficiently as possible. More importantly, we'll find and address small problems before they become bigger ones.
It's well worth the investment to reduce your energy expenses, including preventing repairs and shutdowns. It's also worth the investment to ensure that your HVAC system is running for as long as possible. You have enough on your plate without worrying about how to keep your place of business comfortable. Let A.M. Botte take that concern off of your mind.
Effective and proper maintenance service offers other benefits too, such as preserving indoor air quality for your employees and customers. Our periodic maintenance will also protect warranty coverage for your HVAC system, which can be dependent on routine maintenance.
Local HVAC Service From A Name You Trust.
A.M. Botte is dedicated to quality work, integrity and honesty in customer service. We provide only the services you need, without unnecessary upsells. Our technicians stay ahead of the latest technology, and we're fully licensed and insured. Read what some of our very satisfied customers have to say here. See why we've been the trusted name in HVAC service in the region for over two decades!
If you'd like to know more about our Mullica Hill commercial HVAC maintenance program, call us today or request an estimate here. As a business owner, you have better things to worry about. Let us keep your facility comfortable no matter what the South Jersey climate brings.
New Location in Sewell!
A.M. Botte has opened a new office right here in Sewell, in Washington Township! We are now even better able to serve you with your HVAC installation, repair, and maintenance needs. Wherever you are in Gloucester County, reach out to us today…we can help keep your business comfortable throughout the year!
Interested in updates, seeing customer reviews, and commercial HVAC advice? Be sure to follow our Facebook page!