National Park, NJ Commercial HVAC Maintenance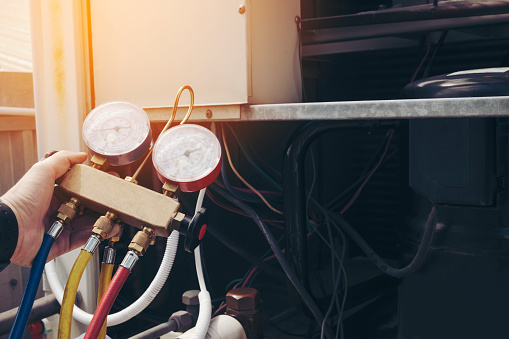 A.M. Botte Mechanical is your local destination for National Park NJ commercial HVAC maintenance. From our brand new location in Sewell, we provide first class heating and air conditioning maintenance services to businesses throughout Gloucester County. We've been helping keep South Jersey facilities comfortable for over 20 years, and we believe in earning our solid reputation with each and every service call.
If you have an HVAC emergency, we are available 24/7. Call us now at 888-729-9215.
As every business owner knows, the weather extremes in this area bring some hefty energy bills…and they do a number on our HVAC systems. We respond to plenty of emergency calls when businesses have had to shut down and lost customers because of HVAC system breakdowns, and the breakdowns happen when HVAC service companies are the busiest.
Why You Need HVAC Maintenance Service
Shutdowns and repairs are costly for a business, not just in repairs and potential replacement of systems, but in lost revenue as customers leave, employees stay home, and temperature sensitive equipment stops working. You have more than enough to worry about owning a business. Very often, shutdowns can be prevented with a periodic HVAC maintenance program.
We're always ready and able to perform your HVAC repairs as needed, or install a brand new system in your building regardless of its size. But we also help keep your systems running strong and at top efficiency through our harsh winters and blazing summers, with our affordable maintenance plans.
When you sign on for our National Park, NJ commercial HVAC maintenance plan, our techs will come to your place of business on a periodic basis to check and maintain your system. We'll calibrate the thermostats, lubricate all of the moving parts, monitor the refrigerant levels, and replace any dirty filters. We also thoroughly examine your system to spot small problems before they become bigger ones.
We'll not only keep your HVAC equipment running efficiently and your energy costs down, we'll help protect you from expensive shutdowns. It's well worth the investment for your business to avoid costly shutdowns and lost production time.
In addition, with our periodic maintenance, your HVAC system will be protected in the event of a shutdown that can be repaired through manufacturer warranty coverage, which often includes provisions regarding the proper care of the system. Maintaining your HVAC system also helps to protect the indoor air quality in the facility, and keep a safer environment for your customers and visitors.
Our National Park, NJ Commercial HVAC Maintenance Services
AC REPAIR
We check all aspects of your AC unit, including the refrigerant, thermostat, condenser coils, controls, relays, wiring, capacitors, belts, air filter, condensation drain, motors and much more. When we come to your property to repair your system, we'll fully explain the problem to you and let you know what you need, without trying to sell you anything you don't need.

AIR CONDITIONING INSTALLATION
As air conditioning systems age, emergency repair can be an inconvenience and an unnecessary financial burden. The cost of continually maintaining an old air conditioner may become too significant. That is why a planned installation can be the easiest and most affordable way to make your National Park property more comfortable.
AC REPLACEMENT & INSTALLATION
Our locally owned business can tackle projects of any size. We are experienced with all building types and will meet all of your AC replacement and installation needs. Whether your energy bills are too high or there is inconsistent cooling, we will come up with a solution for you that will keep your employees, visitors and customers comfortable.

AC SERVICE & MAINTENANCE
We exclusively employ a highly-trained team, which can perform a variety of air conditioning maintenance work on your systems and components, everything from ducts to ventilation and thermostats. We'll keep your equipment running without trying to sell you services you don't need.

DUCTLESS SPLIT SYSTEMS
These heating and cooling systems feature advanced technologies that allow you to enjoy more precise comfort and healthier air in one room or your whole building – while saving on your energy bills and qualifying your business for the NJ Clean Energy Program Rebates!
IN-DUCT AIR PURIFICATION
For a Limited Time A.M Botte is offering the REME Halo home air purification for FREE with any new HVAC system install.
HEATING REPAIR
Choose A.M. Botte Mechanical, LLC for your heater repair service. Our company has over 20 years of experience in repairs. Our techs stay up-to-date with the latest trends and technology in the heating industry. You can trust A.M. Botte to work on the equipment in your place of business.
HEATER REPLACEMENT & INSTALLATION
If your heater is more than 15 to 20 years old, the repairs you've made have probably already cost you thousands of dollars. If the air quality in your place of business is subpar, it may need to be replaced. Ask us about our heater replacement and how we can help you save energy and avoid breakdowns.

FURNACE INSTALLATION
Without proper heating, your building, water pipes, and family will all freeze during the frigid winter months. To save yourself from overpaying on your utilities each month, invest in a furnace that operates as efficiently as possible.
HEATING SERVICE
Regardless if you live or work in New Jersey, you understand how frigid temperatures can become during the winter. Nobody wants to be left in the cold during these long and cold months. That's why you can count on our professional technicians to respond promptly and perform your heating repair service.
HVAC SERVICE CONTRACTS
Our maintenance HVAC service contract includes a detailed check list to ensure your HVAC tune-up is profitable. We help keep your equipment running smoothly and your employees and customers comfortable.

BOILER SERVICES
It can be challenging to find a technician who is willing and educated enough to provide the boiler services. Some HVAC companies convince you to uninstall your boiler system and replace it with a modern heating and cooling system. This is not only incredibly costly, but it is unnecessary as well. At A.M. Botte Mechanical, LLC., we have expertise in supplying residents with boiler repair. We can upgrade or service your current boiler no matter the type, year or make.
BOILER INSTALLATION
Our HVAC technicians can improve your boiler's overall efficiency and extend its life with regular maintenance and repairs.
Contact us today or click here to get a quote. Find out more about how we can keep your systems running and your costs down with our commercial maintenance services. We help keep your employees and customers comfortable, no matter what the New Jersey climate brings!
Be sure to visit our Facebook page to see specials, satisfied customer testimonials, and company news!
New Location in Sewell!
A.M. Botte has opened a new office right here in Sewell, in Washington Township! We are now even better able to serve you with your HVAC installation, repair, and maintenance needs. Wherever you are in Gloucester County, reach out to us today…we can help keep your business comfortable throughout the year!