Washington Township Commercial HVAC Maintenance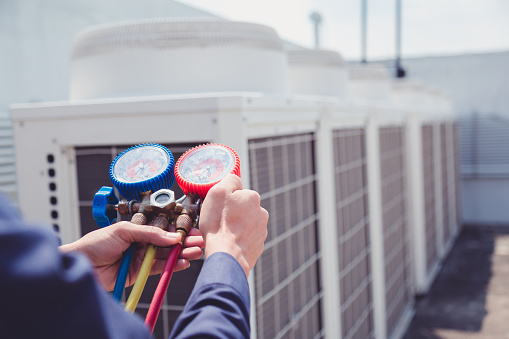 A.M. Botte Mechanical is your trusted, longtime and local authority for Washington Township commercial HVAC maintenance! From our new location right here in Sewell, we keep area businesses and their employees and customers comfortable with dependable heating and air conditioning services. We've been doing this for over two decades, and we still work hard to earn our high customer satisfaction rating with every call.
So why sign up for an HVAC maintenance plan? Every South Jersey business owner knows how demanding our weather extremes can be on their heating and air conditioning systems. During the summer and winter months, we're frequently responding to emergency calls as businesses temporarily shut down because of breakdowns.
System shutdowns are extremely costly for a business, not just in repairs and system replacements but also in lost customer revenue, temperature sensitive equipment breakdowns and replacement of perishable goods. Don't be victimized by a system shutdown when you need your HVAC the most…shutdowns can very often be prevented with simple and affordable system maintenance.
Your Gloucester County Commercial HVAC Maintenance Professionals.
We're always here and ready to respond to your repair calls, and we do full HVAC system replacements in business facilities of every size. But we also can keep your existing system running strong and efficiently, and prevent untimely breakdowns, through our Washington Township commercial HVAC maintenance plans.
Our plan is available for a reasonable fee and is one of our more popular services. When you sign on with our plan, we'll send one of our techs to periodically inspect your system. We keep the thermostats calibrated, monitor refrigerant levels as needed, lubricate any moving parts and replace dirty filters. In addition, we'll look for any small problems and address them before they become bigger and more costly ones.
Our HVAC maintenance plan will not only keep your system running, it will help keep your business's energy costs down too. Protect your business from costly shutdowns through those vintage heat waves and cold spells that South Jersey is known for, and keep your focus on effectively keeping your business running and open!
Besides that, our maintenance plan can help keep your HVAC system in good condition and running for a long time. Your HVAC investment is a considerable cost of doing business, and you're best off protecting that investment and extending the life of your system for the long haul.
If your HVAC system has warranty protection, you should be aware that sometimes coverage is dependent on properly caring for your HVAC system and equipment. Our maintenance services will also help ensure that your warranty coverage is protected.
Service You Need From The Name You Trust.
At A.M. Botte, we dedicate ourselves to honesty and in treating customers fairly, explaining fully what to customers what they need, and not selling our customers services they don't need. We've built our reputation through first class service, fair pricing, and word of mouth. Read a few testimonials here from our satisfied customers.
Find out more about our affordable HVAC maintenance plans for Washington Township businesses. Call us today or use this online form to request your free estimate. At A.M. Botte, we'll help keep your place of business comfortable, no matter what our crazy weather brings.
Washington Township Commercial HVAC Maintenance Services
If one of your goals this year is to save money, add a commercial maintenance contract to your "to-do" list. The maintenance plan we offer Washington Township business owners includes:
Checking and calibrating thermostats

Lubricating moving parts to decrease strain

Monitoring refrigerant levels

Replacing filters

Fully inspecting the system for potential problems
New Location in Sewell!
A.M. Botte has opened a new office right here in Sewell, in Washington Township! We are now even better able to serve you with your HVAC installation, repair, and maintenance needs. Wherever you are in Gloucester County, reach out to us today…we can help keep your business comfortable throughout the year!
Interested in seeing more commercial HVAC tips, employment opportunities and company news? Be sure to follow our Facebook page today!