Willingboro Commercial HVAC Maintenance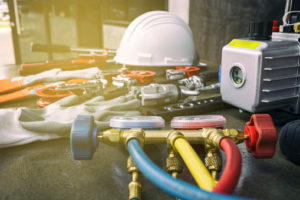 Prevention is always better than a cure, whether it's your physical health or the health of your HVAC system. At A.M. Botte, we specialize in Willingboro commercial HVAC maintenance service. Our maintenance plan keeps your heating and air conditioning going, and keeps your employees and customers comfortable through the harshest of South Jersey weather extremes.
When an HVAC system breaks down unexpectedly, it's brutal on a business. Not only must the owner cover the cost for repairs (or even a new HVAC installation), but also absorb lost productivity and business as people leave the store and machines get shut down.
Don't let your Willingboro competitors take your lost business while you're getting your HVAC system fixed. Let A.M. Botte maintain your heating and air conditioning systems and keep them running as long as possible.
We can set up an affordable maintenance contract with your company, and arrange for periodic visits to care for your HVAC system. We'll check and calibrate the thermostats, lubricate the moving parts to decrease the strain, monitor your refrigerant levels, and replace any filters as needed. Most of all, we'll inspect your system and look for smaller problems before they become bigger and more costly ones.
At A.M. Botte, we've built a solid reputation for honest and fair service, and we work to earn that reputation with every service call. Our technicians are among the best in the industry and take pride in what they do, and we'll never try to sell you services you don't need.
Our Willingboro Commercial HVAC Maintenance Services
If one of your goals this year is to save money, you need to add a commercial maintenance contract to your "to-do" list. The maintenance plan we offer includes:
Checking and calibrating thermostats

Lubricating moving parts to decrease strain
Monitoring refrigerant levels
Replacing filters
If you are interested in saving money and keeping your business running, reach out to A.M. Botte for your quality Willingboro commercial HVAC maintenance program. Call us today or use this form to request an estimate. We'll keep your systems running and your business going, no matter what the South Jersey weather brings.
New Location in Sewell!
A.M. Botte has opened a new office on NJ Route 47 in Sewell, in Washington Township! We are now even better able to serve you with your HVAC installation, repair, and maintenance needs. Wherever you are in South Jersey, reach out to us today…we can help keep your home or business comfortable throughout the year!