10 Ton Rooftop Unit in Philadelphia for Flynn Property Management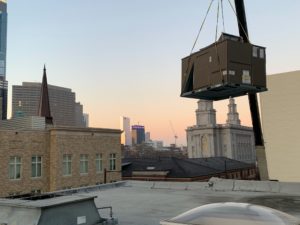 We recently installed a 10 ton rooftop unit in Philadelphia for Flynn Commercial Property Management. Our team got into and out of Philadelphia before the traffic rush and got this valued commercial customer up and running without downtime. Anytime we are called to do work in the city, we make sure our cranes are on-site well ahead of the morning traffic rush and out of the city before noon. This customer saw absolutely no disruption to their daily routine and our installation likely went unnoticed by their tenants.
Highlights of this 10 ton rooftop unit in Philadelphia
• The unit that we installed over 15 years ago was due for replacement
• The work was scheduled at 5am start to avoid traffic and blocking the parking lot for employees
• The unit was fully installed and operational by 10am the same day so they did not go without heat
• We have replaced several units on this building and maintain the service agreement
"Thank you! We had no disruption to our operations today"
– Flynn Commercial Management
Photos of 10 ton rooftop unit in Philadelphia
We are happy to have helped yet another commercial property improve their HVAC system. With these new installations, we know we can guarantee our workmanship for a lifetime. If you need in-ceiling air handler and water coil replacement or have questions about our other services,
contact us today
for quotes and estimates.