Retro Fitness Center – Glassboro NJ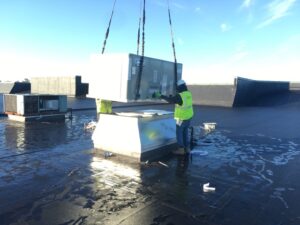 Retro Fitness Center in Glassboro, New Jersey had an HVAC system that was over 30 years old. This old 10 Ton HVAC system was wasting energy and barely functioning. AM Botte was tasked with replacing the old units with a modern, Trane system that will save energy and create a more comfortable environment for the members at Retro Fitness in Glassboro. The challenge with this project, was replacing the old roof units without voiding the warranty on the much newer roof. AM Botte was able to install custom metal adapter curbs to connect to the existing roof curbs eliminating the need to disturb the roof and void the warranty. The two 10 Ton units were seamlessly installed over the new curbs and the work was completed to the customer's satisfaction.
Retro Fitness is great BUT Retro HVAC systems waste energy.
HVAC Replacement Retro Fitness Center – Glassboro NJ