HVAC Package Unit Replacement, Bristol PA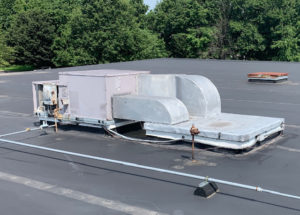 A.M Botte was recently contacted for a HVAC package unit replacement in Bristol PA. With 20 years experience in commercial and residential HVAC unit replacements, A.M. Botte's reputation of reliable and trustworthy execution made them the obvious team to get this job done.
The project demanded that two units be both removed and replaced. These package units were on a rooftop and A.M. Botte worked extensively with crane services coordinating a safe and speedy set up to proceed with the assignment. The team modified the ductwork, as the new layout of the offices demanded. After the units were installed, A.M. Botte made the necessary adjustments. With their new units installed, A.M. Botte will now provide service maintenance in the future to monitor the functionality.
Features of HVAC Package Unit Replacement, Bristol PA
Removal and replacement of 2 roof top package units
Coordinate crane services and roof work
Make needed ductwork modifications to fit the new office layout
Start and adjust the new equipment
Provided service maintenance contract once done
Photos of HVAC Package Unit Replacement, Bristol PA
A.M. Botte provides quality heating and air conditioning service for businesses and commercial facilities in Burlington, Camden and Gloucester Counties. Our technicians take pride in what they do, and we make the effort to provide our customers with the service experience they deserve.The top name in HVAC replacements and management, A.M. Botte believes in honesty first for its clients. When working on equipment that affects your home or business, you want a team that can give you all the details needed to keep you, your family, and your clients comfortable. For services similar for those who are looking for replacements like these, click here to contact A.M. Botte.