Boiler Installation In Cape May, NJ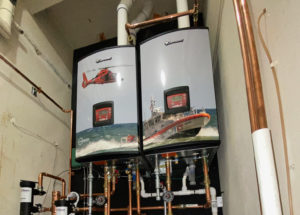 A.M. Botte recently did a boiler installation in Cape May, NJ. We were proud to serve our new client, The United States Coast Guard. They were in need of a new boiler system and after careful consideration they contacted the experts at A.M. Botte. The U.S. Coast Guard informed us that their old outdated boiler which resided in a small pantry closet in their mess hall kitchen was not functioning properly and needed to be replaced. After they informed us of this we got right to work, and sent out a team to remove the old boiler system. After this was done our technicians installed a brand new Combi boiler system, this new boiler system allows hot water to be endlessly used to the homeowner, or in this case The United States Coast Guard! The United States Coast Guard was satisfied to say the least, their new boiler system was installed in a timely fashion, and the whole job was completed at the agreed upon time!
Highlights of Boiler Installation In Cape May, NJ:
Removed old, outdated boiler and water heater from small pantry closet in kitchen. Provided more storage space in kitchen closet
Installed new Cascading Lochinvar Combi Boiler System
Combi boiler allows for endless hot water to the homeowner
Efficiency of new system will allow for lower energy bills for years to come
"The team went above and beyond. All of our questions were answered and the job was completed in the agreed upon timeline." -United States Coast Guard
Photos of Job
---
Have An Issue With Your AC Unit or Want An Upgrade?