Tag Archives:
Bellmawr
---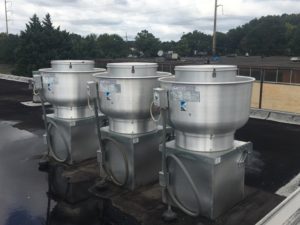 South Jersey CML in Bellmawr, NJ is the Dunkin Donuts baking and distribution facility in South Jersey. Their location in Bellmawr is crucial to operations, as it is responsible for the on-time, on-budget of bakery supplied goods to its many member franchisees throughout South Jersey. A.M. Botte was tasked with the design and installation of: HVAC Uints, Exhaust Systems and Three New Cook Lines.
We have provided the best HVAC services to several industries in our 20 years of business. We can help you save time and money on your building project by being the sole contractor for your mechanical systems. We are able to keep costs under control by helping you avoid redesigns and multiple bids. After we are finished, we keep continuous communication between the client and our construction contractors.
We installed four new rooftop units with new ductwork for each one. In the kitchen, we put in three Stainless Steel Captiveaire Kitchen Hoods, and Stainless Steel Exhaust Ductwork. By the time the project was finished, we had put three new cook lines into service.
Services Provides to South Jersey CML in Bellmawr, NJ
Installation of FOUR New 15 Ton York Rooftop Units
All New Custom Ductwork for the Four Units
Installation of THREE new 40' Stainless Steel Captiveaire Kitchen Hoods
Installation of 20" Stainless Steel Exhaust Ductwork
Installation of SIX, 3000 CFM Exhaust Fans
Installation of SIX Captiveaire Make Up Air Units
Put THREE New Cook Lines Into Service
Photos of South Jersey CML Project in Bellmawr, NJ